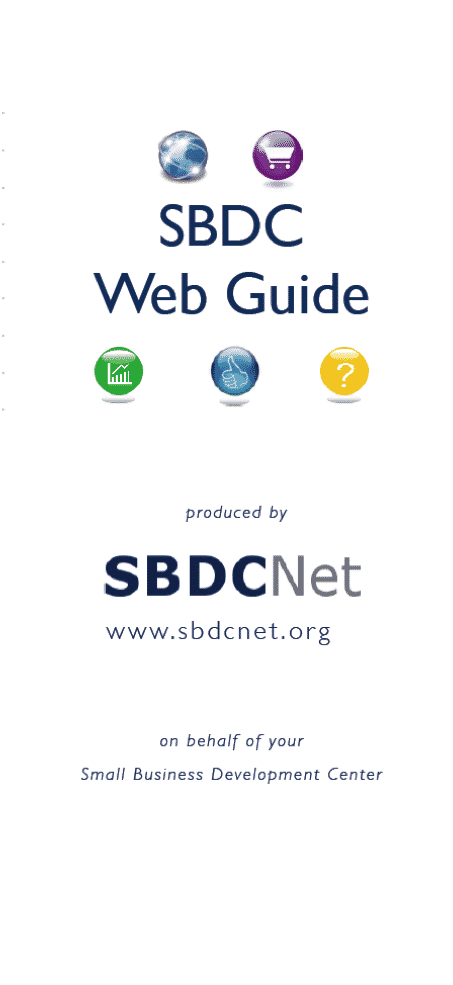 What is the SBDC Web Guide?
It is an impartial, non-endorsed sampling of websites, tools and resources that may help small businesses accelerate their success.
Who produces the SBDC Web Guide?
It is offered as a service of your Small Business Development Center and SBDCNet, the National Information Clearinghouse of the SBDC Network.
Are these websites endorsed?
Neither SBDCNet, your SBDC, any of their sponsoring organizations nor SBA endorse or recommend any of the websites, products, services or companies mentioned in this document. All opinions, conclusions or recommendations expressed on any of these websites are those of the author(s) and do not necessarily reflect the views of the SBA, SBDCNet, your SBDC or any of their sponsoring organizations.
Is there a fee for a business to be listed?
There is no fee for a business to be listed in the guide if it is selected based on the criteria referenced below.
How does a business get listed?
Please email suggested websites, tools and resources to sbdcnet@utsa.edu. There is no fee for having a site reviewed for inclusion in the guide.
What are the criteria for being listed in the Guide?
Given the highly dynamic nature of the web, this impartial, constantly evolving guide is compiled from suggestions made by SBDCNet staff, the SBDC advising network, the broader small business community and the general public. SBDCNet staff use the SBDC Web Guide Selection Criteria to help determine which resources to include in this guide. This criteria may be reviewed at http://www.sbdcnet.org/web-guide-selection-criteria.
The following criteria are used to evaluate whether a website should be included in the SBDC Web Guide:
Viability
Does the website represent a legitimate going concern that is actively selling real products or services? Start-ups are generally not good candidates for this guide unless they have high profile "reference customers" who can attest to the company's proven capabilities.
Motivation
Is the intent of the website content clear? Is it intended to deliver meaningful information, products and/or services? Or is it only intended to collect website visitor information for unrelated uses? No phishing sites, or sites intending to gather information under a false pretense.
Relevance
Does the site have a clear small business focus? Are its products and/or services applicable to the special needs of small businesses? Does the company have a sales channel, sales team or other dedicated resource to address the needs of a small business?
Credibility
We apply the Stanford Guidelines for Web Credibility http://credibility.stanford.edu/ guidelines/index.html) in determining the credibility of a website:
Accurate information
Organizational expertise
Honest, trustworthy reputation
Real people to contact
Easy to understand/use site
Frequently updated content
More content than ads
Professional appearance, minimal errors
Recognition
Is the website commonly referenced as an industry leader in listings on relevant trade websites, business publications or other generally recognized media channels?
Ranking
Is the website consistently ranked higher than its peers on Google PageRank, Alexa, and other similar web traffic tracking services?